Located only 90 minutes from Geneva International Airport, Champéry, Switzerland, is a sought-after location for adventurers of all backgrounds year-round. Surrounded by the stunning Dents du Midi and Dents Blanches, thousands of hikers, skiers and bikers set their sights on this unique resort village once the summer and winter seasons arrive.
Whether you're visiting to gorge yourself on delicious Swiss foods or to take photographs of the rolling green mountains, there is no shortage of activities to partake in when exploring Champéry. Keep reading as we cover some of the best excursions the village region offers…
Summer Season
Starting in early June and ending in late September, Champéry's summer season is the best time for hikers and bikers to take advantage of the beautiful (and dry!) Swiss Alps. These are some locations to consider adding to your itinerary:
Galeries Défago
Perfect for hikers of any skillset, this path is built directly into the large cliffside opposite Champéry, across the Vièze river. With a length of 600 meters, visitors who make it to the other side are rewarded with gorgeous panoramic views of the village. To embark on this journey, find the hike's entrance at Champéry Station and follow the path over the Vièze river.
It gets its name from word "GALERIE" ("GALLERY") written into the cliff in big block capitals above the path. Take the time to admire the valley in its entirety and spot the bell tower of Illiez and the village of Troistorrents.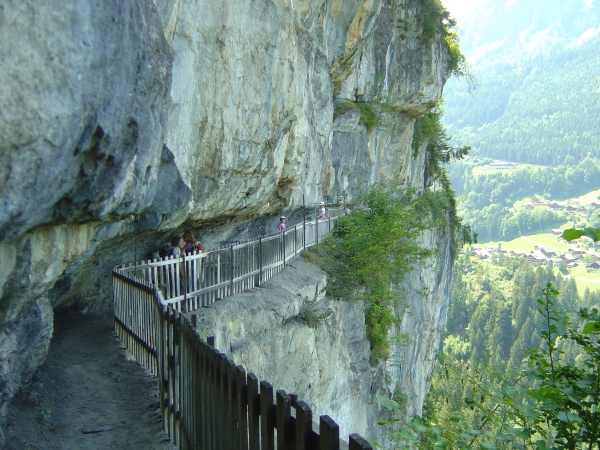 Trott en Stock
Want to feel the wind in your face as you experience Champéry's beauty? There's no better place to mountain bike than at Trott en Stock's downhill paths, perfect for an outing with family or friends. Adrenaline junkies will find endless thrills speeding down the sloped terrain!
At a length of over 10 km with over 1000-meter difference in altitude from top to bottom, the mountain is your playground, negotiate tracks that lead you through fields and open meadows – on an exciting downhill ride with breathtaking views and nature.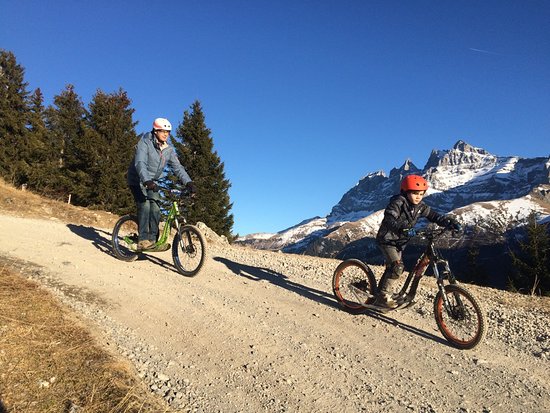 Tandem Paragliding
Ready for the adventure of a lifetime? Experience Champéry from a birds-eye view with Tandem Paragliding, where you and an experienced pilot will soar over the village and Swiss Alps, making for an unforgettable memory that'll last a lifetime.
Good to Know
In winter, there are Paragliding tickets for skilifts:
CHF 30.- day ticket for the Champéry – Croix-de-Culet cable car, or the Grand-Paradis and Planachaux chairlifts (up-trips only). CHF 11.- per up-trip on the Aiguille des Champeys chairlift (CHF 169.- season ticket).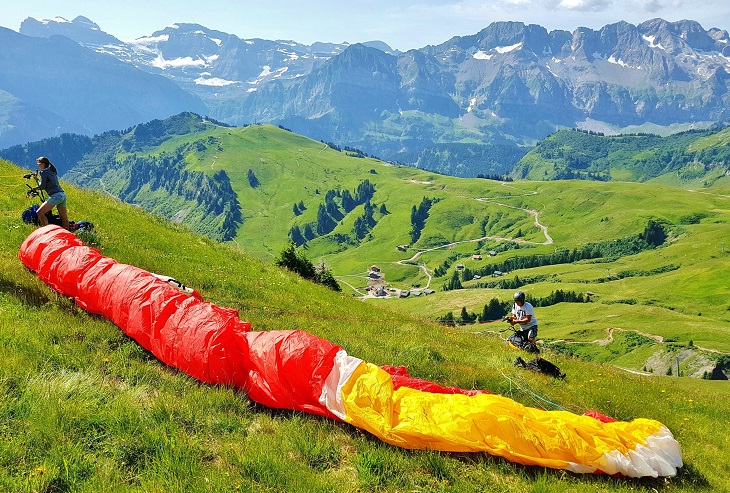 Winter Season
Just because snow may have covered the ground doesn't mean you can't enjoy Champéry. In fact, the winter season is one of the village's most popular times to visit, ranging from early October to late February. Here are some winter attractions you can't miss out on:
Champéry Ski Resort
Featuring a cable car that transports visitors to the slopes in under five minutes, the Champéry Ski Resort is a must-visit for those who can't get enough of the village's winter wonderland appearance. While primarily suited for intermediate skiers, the ski resort, which makes up part of the world famous Portes Du Soleil, features runs for various skillsets, making it a prime location for every type of skier or snowboarder.
Palladium Ice-skating Rink
Offering hockey matches, public skating sessions, skating shows and more, the Palladium ice-skating rink is a popular spot for visitors to partake in Champéry's community events and escape from outside weather.
Good to Know
Admission pricing:
CHF 4.- (+ CHF 3.- skate rental) / Children CHF 6.- (+ CHF 5.- skate rental) / Adults
Skating rink rental per hour : CHF 200.-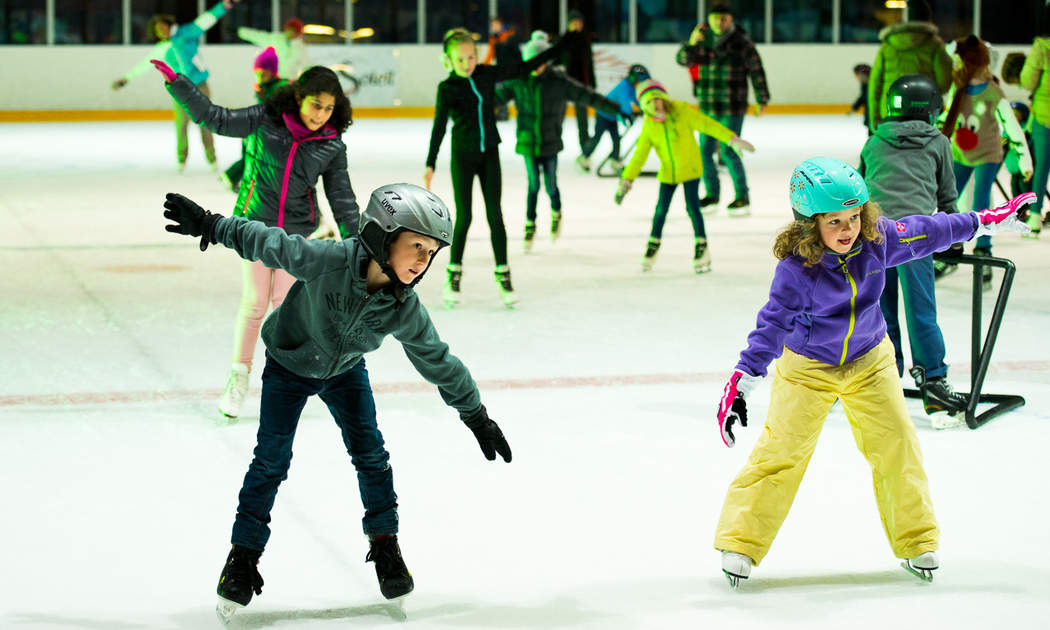 The Swiss Wall
Considered to be one of the world's most challenging ski slopes, this attraction is a better fit for experienced skiers who want to test their skills in one of the most beautiful regions on earth. If you don't want to try your luck on the run, you can always watch others make their descent using the Chavanette chairlift!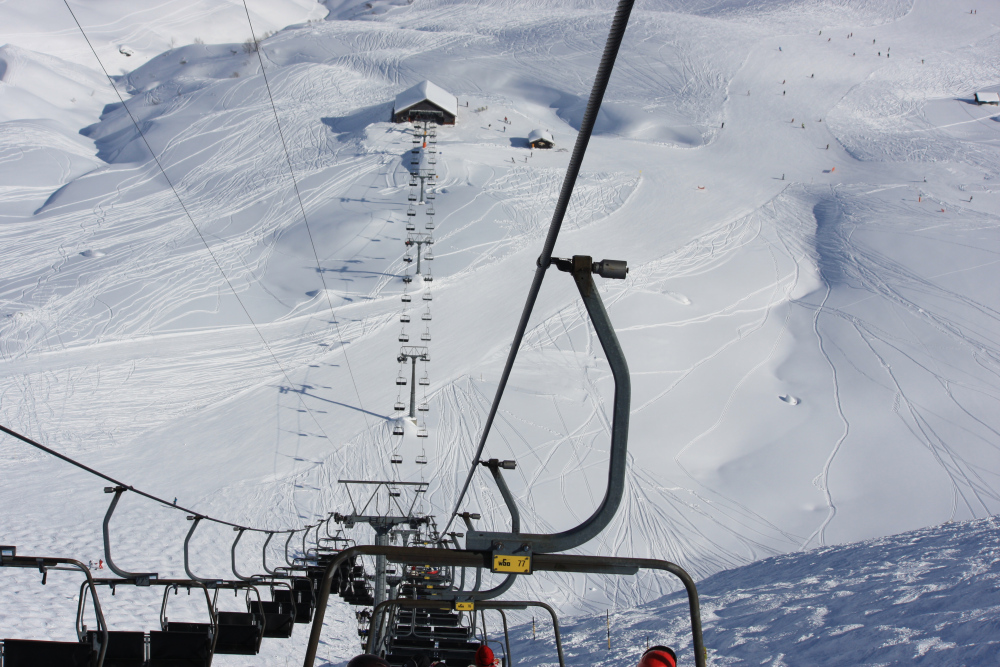 See our properties for sale in Champéry here!