Investment in the Swiss Alps
Switzerland, a peaceful land of lakes, mountains, streams and snow, is a dream retreat for people from all over the world. Charming, high altitude villages, massive ski areas, and easy international access make Switzerland a great place for second home buyers.
Switzerland has always carried a reputation of a prime location for asset protection and wealth management. Historically, Switzerland has always been very stable and remains one of the world's most popular safe-haven investment destinations.
From its political neutrality to its banking system, the country has a reputation for protecting valuables. But its strong economy, low national debt, low inflation and low unemployment also help to make it a safe investment destination. Moreover, there's a capital flight to safety there whenever there is financial and economic uncertainty (Brexit, Trump…)
Hence, even if it's never really gone away, Switzerland and the Swiss Alps particularly, have lately been making a move to the top of the list for property investors.
In comparison to other European resorts, the average cost per m2 in Switzerland remains very competitive if we compare the quality of infrastructure, the snow sure resorts and the exceptional environment.
Purchasing costs are low and the Canton of The Valais is one of the counties that offers the best tax conditions in the country: the rental tax and revenue tax is very low, there is no inheritance tax and the tax on property gain, which has gradually decreased over the years, is also very low. Total transaction costs are very reasonable in Switzerland as well as closing costs.
Undeniably advantageous with regards to tax, It's also low cost of entry. There are many benefits of ownership in the Swiss Alps, and if for certain buyers it is just an "alpine lifestyle" choice it is for all a smart financial option.
Add to that the tranquillity, the security of a protected mountain area, the exceptional sun of Valais and the possibility to design a personalised rental program for your property with high rental prices and you comprehend why it is again at the top of the list for property investment.
Where to invest?
Grimentz, Val d'Anniviers :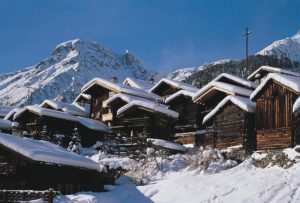 Even by Swiss standards, Grimentz is unbelievably pretty and amazingly old.
The old chalets of the village are turned black by years in the sun; the oldest was built in the 12th century. They crowd together, attics almost touching, the thin lanes between them protect them from the worst of the wind and cold.
When it's snowing in the village, you could almost feel like you are in a Christmas movie for children.
CNN travel for instance, has ranked Grimentz number 2 in its TOP 10 prettiest ski resorts in Europe for alpine fans and as this wasn't making the village proud enough, the whole resort of Val d'anniviers has been ranked number 1 in their TOP10 of 10 hidden ski resorts in Europe you should uncover !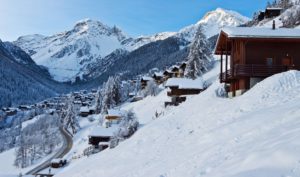 High-altitude, amazing panorama, varied terrain and decent lifts ought to earn it a spot on any adventurous skier's to-go list.
The icing on the cake is that Grimentz is one of only a few resorts in Switzerland where you can heliski straight from the village. Only 15 miles crow from the famous Verbier and even closer to Zermatt and Cervinia, but a world away! A place you really should discover soon.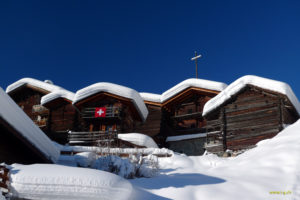 Grimentz sits at 1,570m on the high slopes of Val d'Anniviers – a sleepy valley that runs south off the main Rhône valley. It's only 110 km from the centre of Geneva and yet, until the 1950s, people in the Val d'Anniviers were still practising transhumance ,moving with their animals up to the high pastures in summer, then back down the valley towards the Rhône in winter.
Make friends with the locals and you could be tasting from a huge barrel of Vin de Glacier, home-made wine that has been topped up over centuries to give a rich, sherry-like taste.
Our Project in Grimentz: Chalet les Rahâs :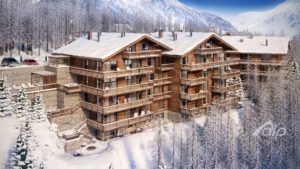 Grimentz has seen a significant rise in interest over the last few months due mostly to its extensive snow sure slopes. The resort itself is the essence of a traditional Swiss village which oozes charm from every corner.
Our clients often have the same wish lists – within 2 hours from Geneva, snow sure and ski-in ski-out and a charming village. Grimentz ticks all those boxes.
Built in a style befitting the village, located in the centre of Grimentz and offering its own spa and wellness facilities, Chalet les Rahâs Phase 2 offer a dozen new stunning apartments for sale with on-site reception and rental program by Mrs Miggins. As in phase 1, we will offer all sizes of apartment from studio to 5-bedroom duplex. Plans and prices upon request
After the first three very successful ski seasons in Grimentz (for phase 1), further apartments in Chalets Les Rahâs by Mrs Miggins are now ready for pre-sales. In phase two we have: private jacuzzi terraces; a wine and tasting cellar; fitness and spa wellness and kids play room, more here.
There are also panoramic mountain views, light and comfortable alpine living giving a close to nature feeling and super concierge services by Mrs Miggins. Mrs Miggins chalet management concept is loved by owners and is currently rated "Exceptional" with 9.7/10 by booking.com by renters after two years of operation. We are also delighted to have Laughland Jones for interior design to keep refining this great product.
Les Rahâs phase 2, will offer luxury alpine apartments ranging from studios to 5 bedroom apartments. An evolution of the successful Les Rahâs project, which has proven popular with owners and has an excellent option for those wishing to rent or simply have a full concierge service.
Please contact us on info@alplifestyle.com to register your interest.
Champéry, Portes du Soleil,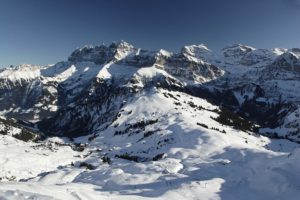 Ideally situated just 90 minutes by car from Geneva, Champéry is both a postcard-perfect alpine village and a modern ski and bike resort.
One of 12 resort linked villages in the enormous Portes du Soleil recreational area, Champéry is the perfect year-round destination for hikers, bikers, skiers and epicureans alike.
Located in this huge skiing area of (Portes du soleil = 650km of slopes) the resort of Champéry in the Val d'Illiez in the Lower Valais has managed to preserve all its traditional charm.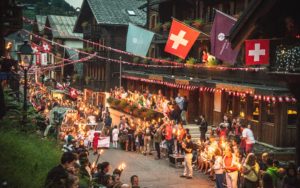 The village is situated at 1050 m in the Chablais region at the foot of the Dents-du-Midi and the Dents Blanches and is one of Switzerland's oldest tourist destinations. Along the village street are numerous traditional chalets with their carved balconies and typical roofs, while visitors are delighted by the charming little shops, bars and restaurants.
In the village is one of Switzerland's few bell-foundries still remaining in production.
Cable-cars and chair-lifts lead from Champéry into the skiing area of "Portes du Soleil", one of the world's largest continuous skiing areas. Within it, there are 14 different areas for skiers and snowboarders – 6 in Switzerland and 8 in France – with 209 lifts and 650 km of prepared slopes available to them.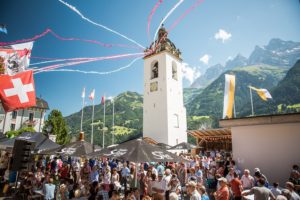 There is also a snow park to meet the needs of freestylers. Not only that, but the audacious can also try their hand at ice-climbing, snow-shoe walking or paragliding, or prove themselves on skiing tours or sledging runs. The village also has an indoor ice rink and a curling hall which are open all year round in the Palladium sport center.
The ski slope at Pas de Chavanette – often simply called "Le Mur Suisse" (the Swiss Wall) – is one of the steepest in the world. Even though it is only a kilometre long, the descent covers a difference in altitude of nearly 400 metres, with gradients of up to 50 degrees.
In summer, there are over 800 km of walks to choose from. There is a 40 km long trekking circuit round the Dents-du-Midi – the wild limestone massif between the Val du Trient and Val d'Illiez – which takes three to four days to complete, well away from all roads and villages. The bike park has over 300 km of marked tracks to suit all abilities. The tourist facilities also include a horse-riding centre, tennis courts, indoor and outdoor swimming pools etc.
On the high plateau of Barme at 1500 m, young and old can practice climbing. In this enchanting place, which is also ideal for family outings, woodland walks or mushroom gathering, there is a 40 m high limestone cliff with marked climbing routes of varying degrees of difficulty. The people of Champéry indulge their love of tradition and craftsmanship by staging numerous local festivals, and they gladly invite visitors to discover folk dances.
Our project in Champéry : Le Montagnier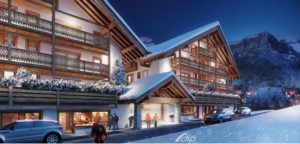 Following the success of "The Lodge Champéry" project a few years ago, Alpine Lifestyle Partners is now launching Le Montagnier project with 24 spacious apartments in the centre of the Village, created and finished to high Swiss standards.
All apartments boast stunning and direct panoramic views of Les Dents du Midi mountain peaks and waterfalls, large balconies and terraces, many with private hot-tubs. Le Montagnier offers a Spa, Clubroom, full concierge and hotel-style services, apartment management and rental program by Mrs Miggins.
The architects and partners have a track record in quality mountain developments and have used their experience to create a project of exceptional standing for Champéry.
Not only is Le Montagnier built to the highest specifications; there are added features to complete the offer, including:
A spa and wellbeing zone – wet and dry areas for spa, treatments, yoga or relaxation
A Clubroom to enable you to host private evenings or share a glass with your neighbours or guests
A ski and boot room with direct access to the high street and bus services
A Reception and management office
Underground parking with special bike storage facilities
A games and children's play zone
Building security systems
High speed wifi and cable access and the latest in HD and direct television and film
and entertainment services
Full laundry
Whether you are an looking for a second home or for an investment, you will appreciate the exceptional facilities on offer.
Please contact us on info@alplifestyle.com to register your interest.