Alpine Lifestyle Partners and the Team of Mrs Miggins (miggins.ch) are proud to announce that we have been awarded the Guest Review Award 2016 for both our properties in Champéry – The Lodge Champéry by Mrs Miggins- and in Grimentz with The Chalet les Rahâs by Mrs Miggins!
The Lodge Champéry and The Chalet Rahâs in Grimentz were both launched by Alpine Lifestyle Partners (alplifestyle.com) – with a concept to own, to enjoy and rent Alpine property, offering guests and owners high service levels.
This Guest Review Award 2016 are chosen by the powerful booking platform -booking.com- and we take it as a great sign of success and happyness of Mrs Miggins guests in both destinations.
Mrs Miggins Team in both destinations is very pleased to receive these 2 Guest Review Awards 2016 as our main objective each season remain to make our guest holidays as fantactic and stress-free as possible via our daily assistance and our conciergerie services on site.
How guests decide where to stay ?
It's a question for property owners around the world, from friendly little guesthouses to five-star properties: What do guests actually want? Here's what we know.
The most-used filter, once people have selected their destination and dates, is price, as you might expect. But there are some facilities and services that seem more crucial than others.
Indeed, when filtering by 'Guest rated' score, the most-chosen range is not the top tier of 'Superb: 9+' but one tier down at 'Very good: 8+', perhaps because that suggests somewhere special that might still be affordable.
The score range of 'Superb: 9+' is the second most common choice. Several testing show that review comments about staff and cleanliness also have a big impact on where people book.
With The Lodge Champéry with a grade of 8.6 out of 10 and The Chalet les Rahâs with a grade of 9.7, Mrs Miggins destinations are more likely to be trusted, to be booked and more importantly to make our guests fully happy and relaxed during their time with us.
Please do not hesitate to have a look at our real reviews and grade :
– Reviews of Chalet Les Rahâs by Mrs Miggins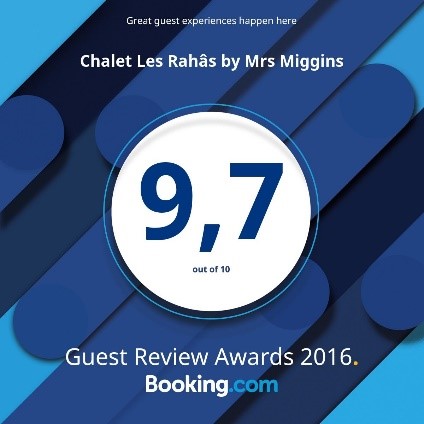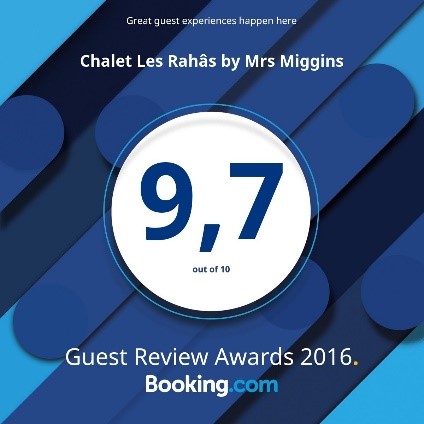 – Reviews of The Lodge Champéry by Mrs Miggins
Therefore, when it comes to selecting a property,  real reviews remain the deciding factor.
Volume of reviews can be key: having engaged guests is seen as the ultimate proof that our properties and destinations are good, especially if reviewers also reveal a little bit about themselves.
When we ask our guests at the reception if they looked at our reviews before booking, the large majority says yes, often at least on one website and sometime on several. Then, when we ask what they are looking for in reviews, it's always for insights that are not in the actual property descriptions, as often, it's the small details that count.
To conclude …
– 'Very good: 8+' is the most commonly selected 'Guest rated' score and both Chalet Rahâs and The Lodge Champéry are higher than 8.
– Review comments about staff and property and cleanliness have a big impact on booking, and these Guest Review Awards 2016 will as well.
– Mrs Miggins good reviews encourage more guests to book. Plus, when reviewers give constructive feedback, they can help us to improve our services.
Mrs Miggins Team believe the most successful properties in terms of moving the review scores are the ones who really listen to guests and take action on the information they get out of the reviews and this is what we aim to do continue doing in all our destinations.
As our score rise higher, Mrs Miggins challenge will always be to keep it that way and consistently meeting our guests' expectations and more!